APL Awards 2023 Shortlist
Each year since 1995 we have been proud to recognise and reward the high standard of landscape contracting carried out by APL registered members. We use the APL Awards to promote members' commitment to quality landscaping and keeping their customers completely satisfied.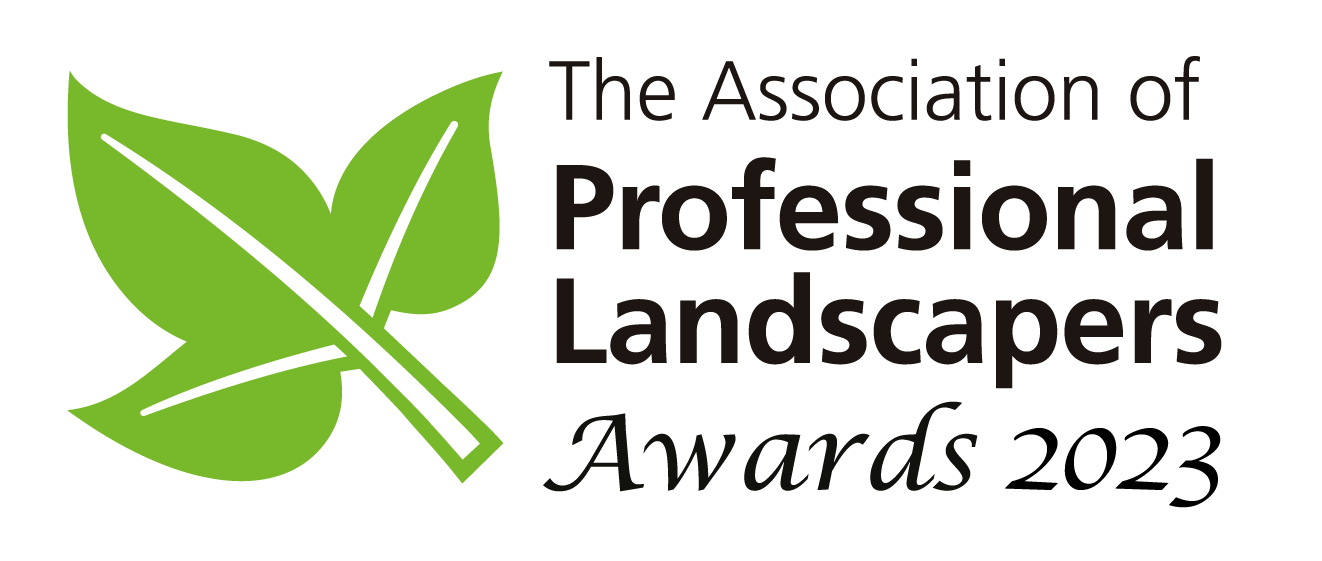 Each year The Association of Professional Landscapers has an awards ceremony for its members to showcase the great work they do.
Members are asked to submit their projects by early June, where they are given an initial judging based on images and paperwork supplied. 
If they are successful at this stage they are shortlisted to the next round of judging, which is the site visits.
Site visits are conducted throughout August and September by our team of judges, where every aspect of the garden will be assessed.
Final judging takes place in October and the APL Awards Finalists will be announced at Futurescape (an industry trade show) in November.
Projects are awarded Bronze, Silver and Gold Awards, followed by Category winners and then the 2023 APL Supreme winner.
Congratulations to all you short listed companies and best of luck.
Phil Tremayne APL General Manger.
| | | |
| --- | --- | --- |
| Category | Company | Project Name |
| Project Value under £20,000 | New Look Landscapes Ltd | Roper Crescent |
| Project Value under £20,000 | Nordland Landscapes Ltd | E20 Pollinator Garden |
| Project Value under £20,000 | Roger Gladwell Landscapes | Under the big Oak tree |
| Project Value under £20,000 | Kebur Landscape Division and Mistletoe Garden Design | Clifton Gardens Sanctuary |
| Project Value under £20,000 | Harrogate Garden Design / Block Yorkshire | Mediterranean Haven - Little Ribston |
| Project Value under £20,000 | landscapes 4 living ltd | Mcintosh |
| Project Value under £20,000 | Fenton Gardens LTD | Omega Garden |
| Project Value under £20,000 | Jacq and Wills Landscapes | Grant |
| Project Value £20,000 - £35,000 | The secret landscape company ltd | Breeze house garden design |
| Project Value £20,000 - £35,000 | Roger Gladwell Landscapes | House on the hill |
| Project Value £20,000 - £35,000 | Richard Adam Landscapes Limited | The Courtyard Garden |
| Project Value £20,000 - £35,000 | Frogheath Landscapes | The Water Tower |
| Project Value £20,000 - £35,000 | Oakhill Landscapes Ltd. | The 3 in 1 Garden |
| Project Value £20,000 - £35,000 | Essex Garden Designs | Courtyard Garden |
| Project Value £20,000 - £35,000 | TAW Garden Landscapes Ltd  | West Street  |
| Project Value £20,000 - £35,000 | Aura Landscapes Ltd | 53 Davids Lane |
| Project Value £20,000 - £35,000 | Karl Harrison Landscapes Ltd | Stag Lane |
| Project Value £20,000 - £35,000 | Karl Harrison Landscapes Ltd | Joiners Lane |
| Project Value £20,000 - £35,000 | HG LANDSCAPES WOBURN LTD | MOORHEN WAY |
| Project Value £20,000 - £35,000 | Frogheath Landscapes | Lewes Courtyard |
| Project Value £35,000 - £50,000 | Harlow Garden Services | The Long Garden |
| Project Value £35,000 - £50,000 | Nordland Landscapes ltd | Camden Studios |
| Project Value £35,000 - £50,000 | Roger Gladwell Landscapes | The Rille |
| Project Value £35,000 - £50,000 | Shrub and Stone | Chester Row |
| Project Value £35,000 - £50,000 | Landscapia Ltd | Tranquil Retreat |
| Project Value £35,000 - £50,000 | Frogheath Landscapes | Vegetable and Cutting Garden |
| Project Value £35,000 - £50,000 | Gardenscapes | Hill – Hallowes Close |
| Project Value £35,000 - £50,000 | Karl Harrison Landscapes Ltd | Long Park |
| Project Value £50,000-£65,000 | Earthstone Landscapes Ltd | Mulberry Barn |
| Project Value £50,000-£65,000 | Essex Garden Designs | Walled Garden |
| Project Value £50,000-£65,000 | County Garden Management | South Kensington Courtyard |
| Project Value £50,000-£65,000 | Roger Gladwell Landscapes | Glennie's Garden |
| Project Value £50,000-£65,000 | Gadd Brothers Trees and Landscapes | Apple Down Drive  |
| Project Value £50,000-£65,000 | Gardenscapes | Greenacre – Hallowes Close |
| Project Value £50,000-£65,000 | HG Landscapes Woburn | Glebe House |
| Project Value £65,000-£80,000 | County Garden Management | Kitchen Garden at The Windmill |
| Project Value £65,000-£80,000 | Essex Garden Designs | Social Garden |
| Project Value £80,000-£100,000 | Transform Landscapes Design and Construction | Frensham Retreat |
| Project Value £80,000-£100,000 | Gadd Brothers Trees and Landscapes  | Westhorpe |
| Project Value £100,000-£175,000 | Roger Gladwell Landscapes | The Manor House |
| Project Value £100,000-£175,000 | The Botanical Gardener | Charlwood Road |
| Project Value £100,000-£175,000 | Cobham Court Landscaping | Iona  |
| Project Value £100,000-£175,000 | Premier Gardens | North Avenue |
| Project Value £100,000-£175,000 | Slate Grey Design Ltd | Rouges Hill House |
| Project Value £100,000-£175,000 | TAW Garden Landscapes Ltd | Wychwood House |
| Project Value £175,000-£250,000 | Habitat Landscapes | Beech House |
| Project Value £175,000-£250,000 | Esse Landscapes | Ferndale |
| Project Value £175,000-£250,000 | Gartenart Swimming Ponds | Swimming pond in East Sussex |
| Project Value £175,000-£250,000 | The Secret Landscape Company  | Longridge House  |
| Project Value over £250,00 | AS Landscapes Design & Build Ltd. | AS Show Garden |
| Project Value over £250,00 | Karl Harrison Landscapes Ltd | Long Grove |
| Garden Feature | Habitat Landscapes LTD | Arcadia Rill |
| Garden Feature | Andy lewis landscapes | The Egg |
| Garden Feature | Esse Landscapes | Ashfold Grange Koi Pond |
| Garden Feature | Conquest Spaces | Oak Framed Outdoor Dining |
| Soft Landscaping | Transform Landscapes Design and Construction | Surrey Hills Garden |
| Soft Landscaping | Adam Vetere Landscape & Garden Design | The Contemporary Courtyard Garden |
| Soft Landscaping | BUSHY BUSINESS LTD | Waterside Tranquillity  |
| Soft Landscaping | We Love Plants | Windmill Bank |
| Soft Landscaping | Wright Landscapes Ltd | Dunham House |
| Hard Landscaping | JJH Landscapes & Construction LTD | Contemporary Courtyard Garden |
| Hard Landscaping | Landscapia Ltd  | Metropolitan Elegance  |
| Hard Landscaping | AS Landscapes Design & Build Ltd. | Merryhills |
| Hard Landscaping | Slate Grey Design Ltd | Rogues Hill House |
| Hard Landscaping | Gardenscapes | Greenacre – Hallowes Close |
| Hard Landscaping | Gardenscapes | Hill – Hallowes Close |
| Hard Landscaping | Aura Landscapes | Keppels |
| Overall Design & Build | Harlow Garden Services | The Long Garden |
| Overall Design & Build | Roger Gladwell Landscapes | Retirement Garden |
| Overall Design & Build | Gardenscapes | Hill – Hallowes Close |
| Commercial Garden | Roger Gladwell Landscapes | Suffolk Food Hall |
| Commercial Garden | Wright Landscapes Ltd | Black Friar Pub |
| Maintenance | Pristine Gardens Limited | Garden Care |
| Maintenance | We Love Plants | Glendale |
| Maintenance | We Love Plants | White Lodge |
| Maintenance | HM GARDENS LIMITED | RAINBOW |
| Maintenance | We Love Plants | Pinewood House |
| Maintenance | Jacq and Wills Landscapes | Caldrees Manor |
| APL  Designer of the Year | Adam Vetere Landscape & Garden Design | The contemporary courtyard |
| APL  Designer of the Year | Bramley Apple Garden Design | Cottage Courtyard |
| APL  Designer of the Year | We Love Plants | Bay Tree House |
| APL  Designer of the Year | HollandGreen Landscapes | Longridge House |
| APL  Designer of the Year | Adam Vetere Landscape & Garden Design | The Escarpment Garden |
| APL  Designer of the Year | Tina Vallis Garden Design | Stone Sea |
| APL Collaboration | Adam Vetere Landscape & Garden Design and JJH Landscapes | The Contemporary Courtyard Garden |
| APL Collaboration | Habitat Landscapes Ltd | Arcadian escape  |
| APL Collaboration | Shrub and Stone  | RG9 |
| APL Collaboration | Raine Garden Design ltd & Bushy Business | New build transformation |
| APL Collaboration | HollandGreen Landscapes (Collaborating with The Secret Landscape Co.) | Longridge House |
| TBC | Conquest Creative Spaces | Kipling Gardens |
| TBC | Conquest Creative Spaces | Windsor Pocket Garden |