Member Landscapers
Here are our many supporting members who helped build "What Lies Beneath". Without their support and expertise, none of this would have been possible. This also goes for our material sponsors, who can be found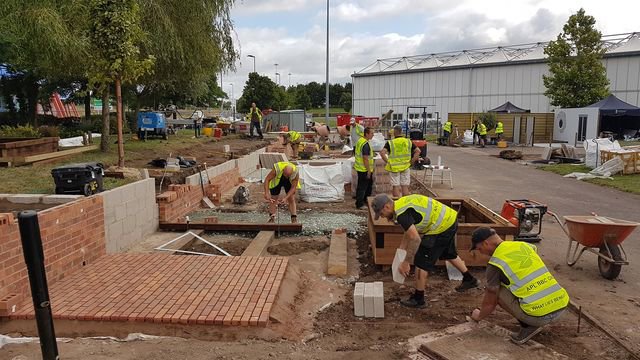 Here are our many supporting members who helped build "What Lies Beneath". Without their support and expertise, none of this would have been possible. This also goes for our material sponsors, who can be found here 
Keyscape Design and Construction  
http://www.keyscapegardens.uk/     
 Pershore based Keyscape offer two divisions; Keyscape Design & Construction who specialise in producing beautifully built gardens and Keyscape Special Projects & Events who concentrate on creating show gardens and dressing special occasions.
Keyscape also work in partnership with Ruth Gwynn Associates an award winning design practise.
A consistently award-winning team, they have received numerous Royal Horticultural Society medals, including coveted Gold medals at RHS Chelsea, RHS Hampton Court, RHS Malvern and Gardeners World Live.
Keyscape Design and Construction is owned and managed by husband and wife team Rupert Keys and Ruth Gwynn.
TASK is the only independent landscaping and land based training centre in the heart of England. It works in collaboration with industry partners like the Association of Professional landscapers (APL) providing a diverse programme of practical reality based accredited courses to support the horticultural industry. TASK will be working closely alongside other colleges, industry leaders, partners and suppliers who have a wealth of experience within their fields, giving an insight that many training providers are unable to offer.
Design It Landscapes
https://www.designitlandscapes.co.uk/
Kidderminster based Design It Landscapes was founded by Dan Ryan in 2009.  Dan's interest in garden design and a love of nature and the outdoors led him to study at Pershore College where he attained a HND in Horticulture and Garden Design.
It was this passion for good design and to provide a quality product that has become the core of Design it Landscapes which has resulted in accolades including medals at RHS Malvern and BBC Gardeners World Live along with producing high quality gardens for domestic clients.
Since starting the business Dan has built up a team of highly skilled staff and a network of trusted suppliers who work closely with Design It to provide the best possible experience and service for our clients.
https://www.bigfishlandscapes.co.uk/
Big Fish Landscapes build beautiful gardens for some of the worlds leading garden designers. The Herefordshire based company is owned by Andrew Ball and works all over the West Midlands.
 https://www.artformlandscapes.co.uk/
Based  in Buckinghamshire,  Artform Landscapes offer a complete garden consultation, design and build service.
Artform was formed through a desire to create stunning gardens in a relaxed and friendly environment and over the past twenty five years their landscape team have helped many clients throughout Buckinghamshire, Berkshire, Surrey and London achieve their perfect outdoor space.
Their focus is firmly set on attention to detail and customer care. As a result, they have established a solid reputation amongst  industry peers and clientele for quality and reliability.
https://www.facebook.com/andylewislandscapes/
Manchester based Andy Lewis landscapes are a landscape gardening and garden build service for Manchester and surrounding areas. Paving, includes Indian stone and York stone, Dry stone walling, Stone walling, Natural stone water features, timber structures, Decking, Fencing, Planting and any other landscaping work.
https://www.jjhlandscapes.co.uk/
JJH Landscapes & Construction LTD are a friendly family run business based in Oxfordshire,
With over 20 years of experience in the building industry they provide a vast array of building services, Groundworks, Landscaping, Hardscaping, Brickwork, Extensions, Conversions, Carpentry, Paving & Fencing.
A B Aquatics are based in Dorset. Their aim is to provide clients with solutions and their work is constantly evolving to reflect new ideas and meet new challenges, as well as staying on top of all the latest developments in our industry. AB Aquatics pride themselves on being able to offer bespoke gardens tailored to meet any budget and taste. Whether you plan to spend £2000 or £20,000 on your garden the quality and standard of work received will not differ. They work nationwide.
In 2015 Milton Keynes Based  Golden Gardens & Building was formed, as a small family business combining a wealth of knowledge throughout the team from all aspects of the building world.
They had one ambition, to offer ideas and quality over and above any others.
They started from the dirt (literally) and now work across the three counties providing top-tier builds & renovations.
https://www.urbanlandscapedesign.co.uk/
Cheshire based Urban Landscapes were established in 2005 by Mark and Holly Youde. They have built up a distinguished reputation which incorporates an extensive skill set and wide range of expertise to produce outstanding prestigious and sustainable design and landscaping solutions for their private and commercial landscaping clients.
https://www.landscapeacademy.co.uk/
Mark Youde also runs the Landscape Academy, they offer a number of courses covering all aspects of landscaping and cater for all levels and abilities, whether you are starting out in the industry or more experienced and wish to improve skills or learn a new one
https://www.wmexteriors.co.uk/
Manchester based WM Exteriors Ltd are specialists in the Design and Construction of Gardens, Outdoor Kitchens, Outdoor Rooms and Driveways. WM Exteriors work closely with private clients to create beautiful outdoor spaces across the North West.
Surrey based Gordius Team is experienced, client focused and committed to providing the highest quality work. Levente Kosa, Mananging Director of Gordius Team Ltd came from Hungary six years ago, where landscaping, driveways, terraces, fencing, decking, paving, gardening have a long tradition. I can usefully use the expertise and construction techniques brought from home here.
Buckinghamshire based Karl Harrison has surrounded himself with like-minded professionals to create beautiful gardens since early 2003. They have built gardens across the home counties, London, South of France and in Gibraltar.
As members of the APL the company is professional, they could be (and are) inspected at any time to make sure their credentials are in the right place. Insurance, training, qualification, specification, construction, CDM (Construction Design and Management regulations) and Health & Safety.
http://nicholasedwardgardens.com/
Nick is an award winning garden designer and landscaper based in North Yorkshire, who works on projects all over the country. Nick  has worked on many exciting projects, including the RHS Chelsea Flower Show, where he led on the build of the Chengdu Silk Road Garden.
Nick can meet all your landscaping needs from design, planting and construction of a beautiful outdoor space, to project management of existing designs.
PDG Stone Craft
https://www.pdgstonecraft.co.uk/
PDG are Wigan based and have been established for over 34 years. PDG GroundWorks was originally founded by partner Paul Gough with over 40 years extensive experience in the Construction Industry, Large & Small Groundwork schemes, Building and hard landscaping projects.
In 2008 PDG moved from Groundwork projects, concentrating more towards Hard Landscaping & Natural stone Installation with a rebranding of the name to PDG StoneCraft.
Working alongside Structural Engineers, Architects, Designers, Natural stone quarries, fabrication manufacturers and clients we can create a distinctive and unique project,from project management to design and installation.
We undertake every aspect of Groundworks, building & hard landscaping from Architects drawings on a commissioned scale or simply enhancing existing projects. The bespoke craftsmanship and professional workmanship with attention to detail are the hallmarks that PDG pride themselves on.
https://www.gkwilsonlandscaping.co.uk/
G.K. Wilson Landscape Services are based in Glossop.They are an award-winning landscaping company, based in Glossop, which specialises in garden design and the installation of patios and driveways for customers in their home town and the surrounding Tameside, Marple and Poynton areas. They also cover Manchester, Cheshire and Derbyshire.
https://www.facebook.com/jglandscapers/ 
https://jglandscapingltd.co.uk/
Professional landscape contractors serving the South West and the Midlands. Also specialists in Resin Bound surfacing.
Sussex based Conquest Creative Spaces and East Sussex based Frogheath provide What Lies Beneath with their apprentices to support this garden build. Harry, Jack and Layton spent two days at the show and were excellent. Harry and Jack are both in the UK squad for landscaping with World Skills https://worldskills.org/. They hope to win gold in Shanghai next October.