Owen Thomas Garden Landscapes
Owen Thomas Garden Landscape Ltd is an APL registered landscaping company that serves Finchampstead, Wokingham, Swallowfield, Spencers Wood, Yateley, Eversley and Crowthorne. The team have a unique ability to create and maintain beautiful and imaginative outdoor spaces. Clients will benefit from our commitment to high standards and passion for gardening and landscaping as well as our friendly and professional approach. If you are looking to have your garden designed and constructed then Owen Thomas Garden Landscapes Ltd is the company for you. Our services include, garden design, landscaping, patios, decking, real and artificial lawns, fences and boundaries, sheds and summerhouses.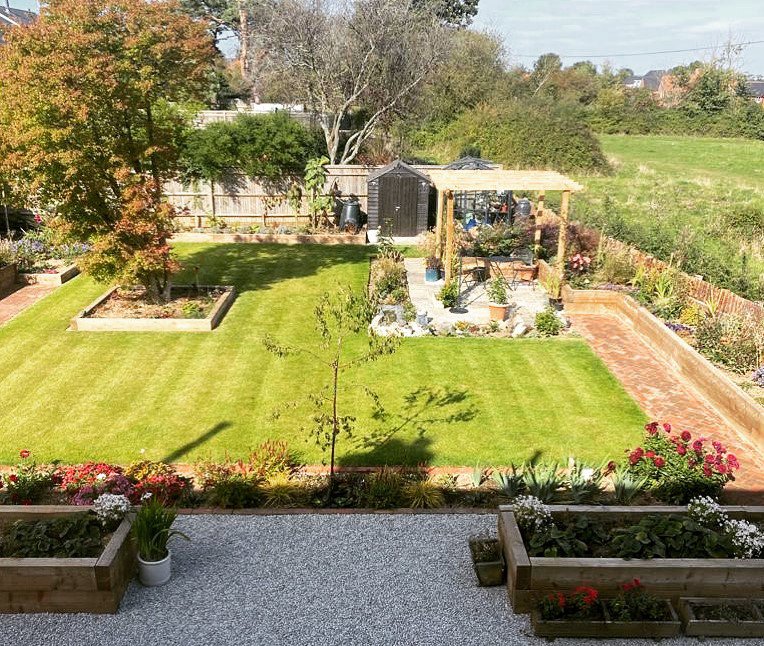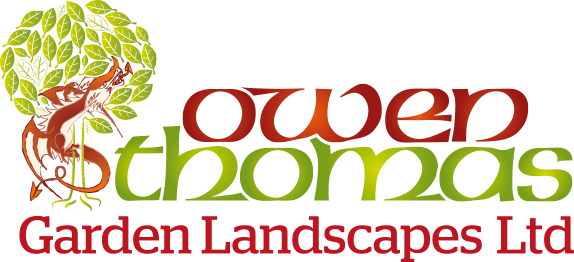 Having worked in his younger years for the National Trust in the beautiful West Wales countryside, Owen ignited his passion for working in the great outdoors. After completing his degree, working in a variety of industries and roles and spending a couple of years travelling the world, Owen decided work in the landscaping business.
After gaining some valuable experience working for a reputable and award winning Berkshire based landscaping company, undertaking a RHS qualification and taking on the role of Head Gardener at an independent school, Owen decided to set up his own garden and landscaping company.
Where we work
Based in Finchampstead, Owen now leads a team of highly skilled, passionate and suitably trained gardeners and landscapers that serve Wokingham, Finchampstead, Crowthorne, Yateley and the surrounding areas. As well as maintaining gardens throughout the year, Owen also designs and constructs a range of garden projects.
Member of the APL
After being independently vetted, Owen Thomas Garden Landscapers Ltd has become APL registered. The APL is the only landscaping scheme operator of Trustmark, a Government endorsed initiative that promotes professional trades to consumers. Being part of endorsed Trustmark standards gives you the client peace of mind when it comes to the quality of work and adherence to health and safety regulations.
Bradstone Installer
Owen is now an Bradstone Assured installer for clients looking for the finest quality paving slabs and patio stone products. Visit www.bradstone.com to review products and get some inspiration for your garden project.
Show Gardens
Owen and his team support projects at the Hampton Court Palace flower show each year. The team worked building the APL show garden 'A Place to Meet' in 2019 which won a silver medal.
Garden Design
If you are looking to have your whole garden re-designed then we can recommend a garden designer that can take you every step of the way. We are also happy to work alongside new garden designers if required.
Waste Removal
Owen Thomas Garden Landscapes is a fully insured company and carries a full licence for environmental waste removal.
Feel free to get into contact for more information.
Design & Build
Soft Landscaping
Decking
Fencing
Lighting
Turfing
Synthetics & Composites
Hard Landscaping / Paving
Professional Gardener
APL Associate
Border Preparation
Domestic
Lawn Care & Treatment
Garden Clearance
Hedge / Tree Planting & Aftercare
Wokingham Redesign
A full garden redesign and landscape project. New patio, pathway round the whole house, decking, lighting, drainage gullies added, and low brick wall built built.
A beautiful new garden for the family to enjoy. Fully functional to enjoy the sun throughout the day and through different seasons.
Budget

35K

Date

January 2022

Location

Wokingham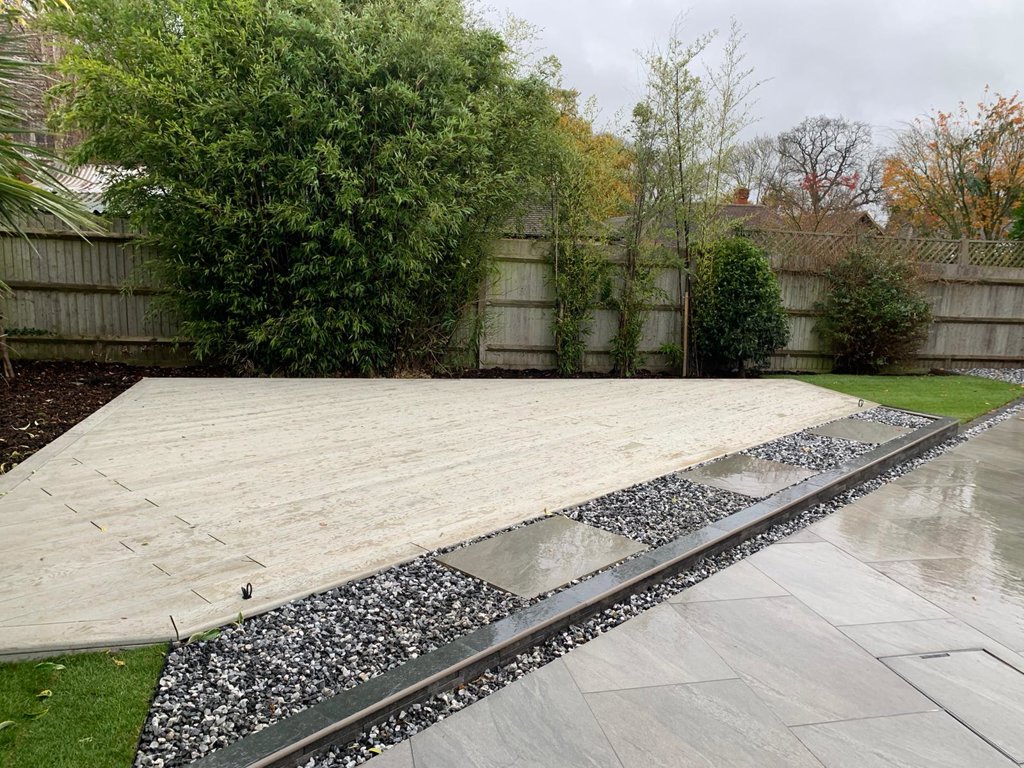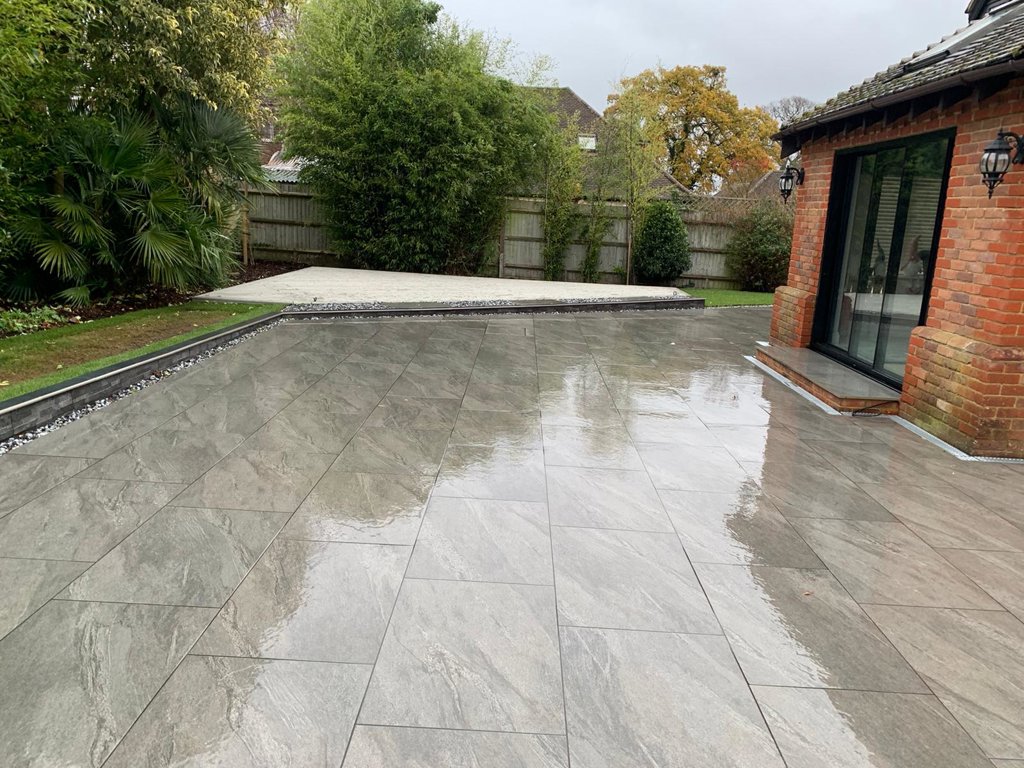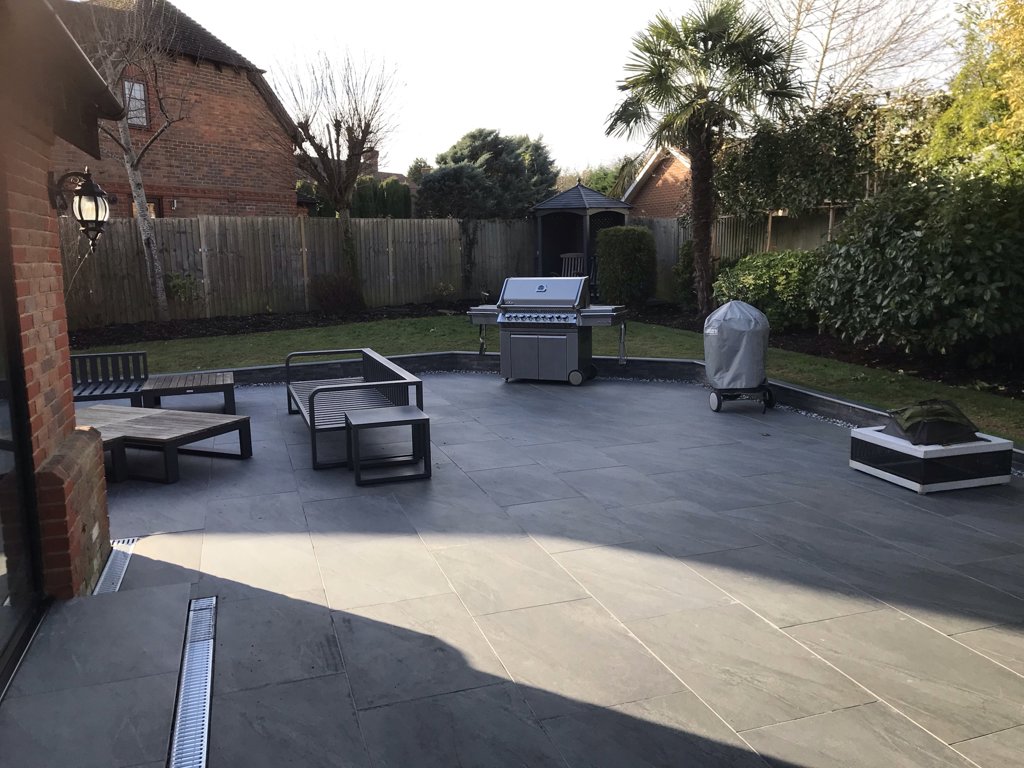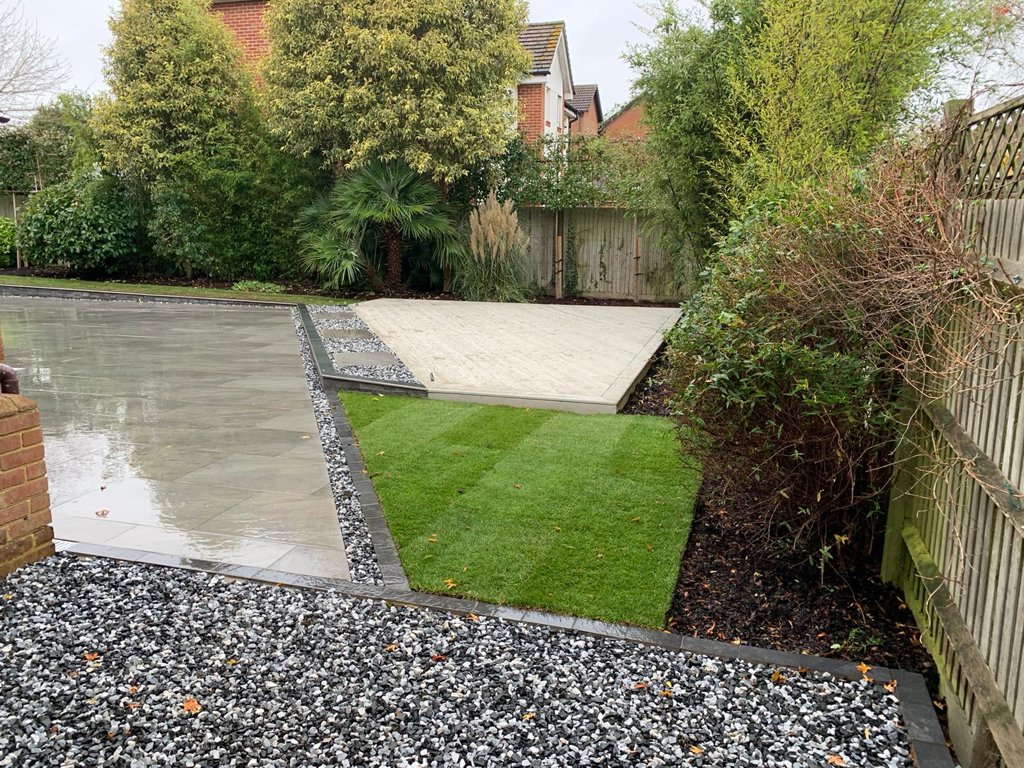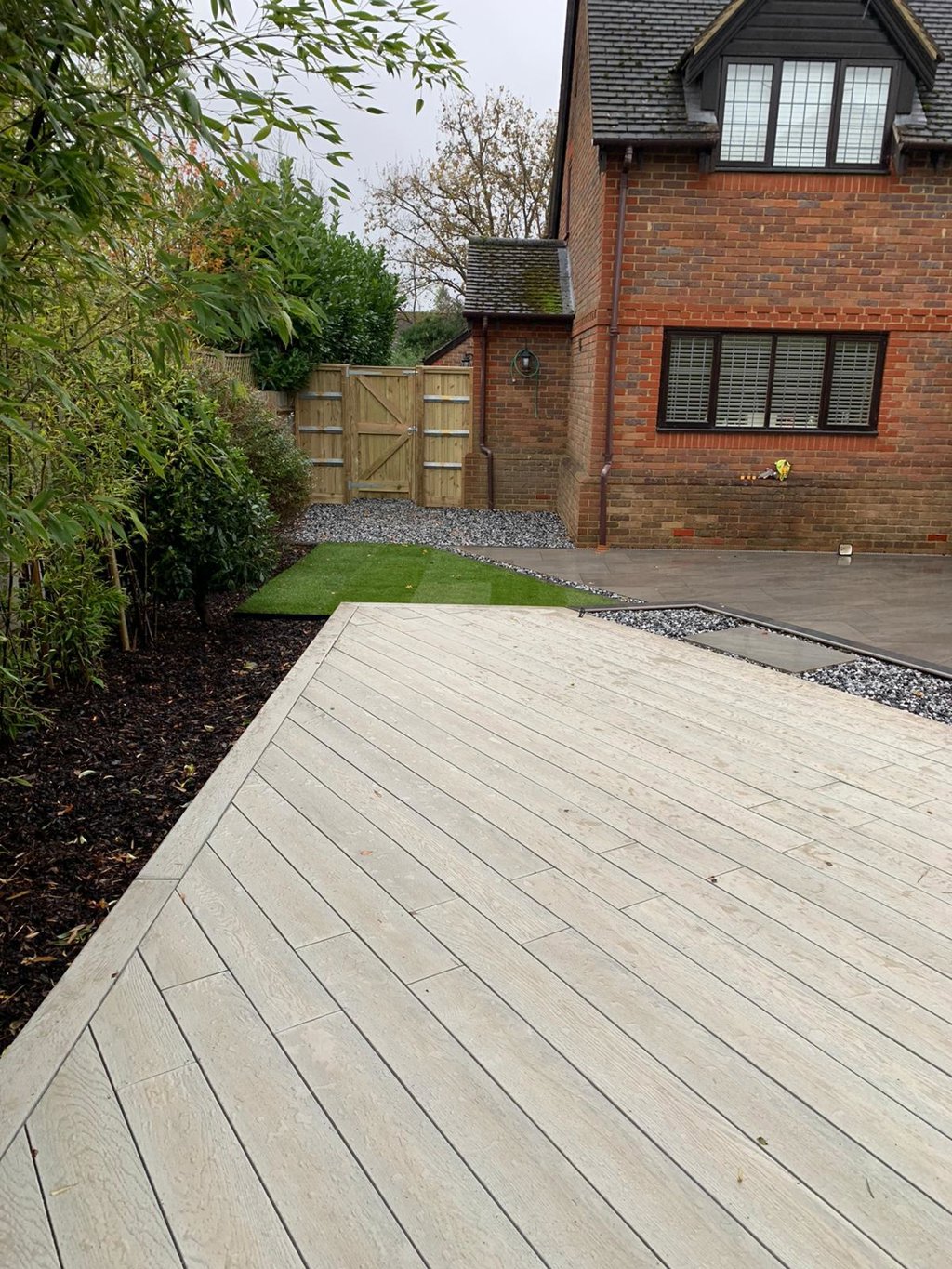 What our customers are saying
We have been really impressed with the Owen Thomas team and are incredibly pleased with our finished garden. Owen visited last year and talked through general ideas, but he recommended we used a garden designer. We were a little daunted by this initially, but it really has been the best approach and has meant we feel like we love all of the garden – it has addressed everything we wanted and there are no parts that we feel have been overlooked. Owen's team were friendly, amazingly tidy, and very hardworking. It was clear that they have a definite pride in their work and they have been pleased to see how the garden has developed. They had some problems sourcing some supplies due to general delays caused by the pandemic which led to some slippage in the programme, but we were kept informed at every stage and we are thrilled with the outcome.

H Nolan, Dukes Wood, Crowthorne
We are so happy that we chose Owen Thomas Gardens. We are absolutely delighted with the outcome. The patio looks amazing. Having seen the extent of the preparatory work they undertook, we are sure that it will last for a very long time. The whole team were very easy to talk with, and took the time taken to listen and understand what it was that we were looking for. We appreciated their expertise and creative thinking. The team were a complete pleasure to have around and were consistently cheerful, polite, friendly and very hard-working to an extremely high standard. The whole process was stress-free, largely because they tackled everything extremely professionally and communicate well.

E Merchant, Oxford Road, Wokingham
We have had fantastic service from Owen, who has turned my garden from a really bad use of space into the stand out feature of our house. Owen and the staff were polite and courteous throughout, and discussed any changes to the plan with me. I would highly recommend Owen to anyone who needs a garden remodelling.

S Barbour, Gifford Close, Caversham