Jacque and Wills Landscapes
Member Profile
Jacque and Wills Landscapes
Copley Hill Business Park, Cambridge Rd, Cambridge CB22 3GN
https://www.jwlandscapes.co.uk/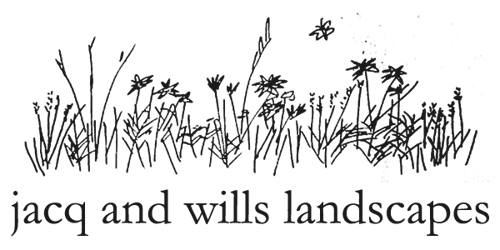 About Jacque and Will
Jacq and Wills Landscapes was established in 2002. They are based close to Cambridge and work in Saffron Walden, Newmarket, Clare and surrounding villages.
The 'Will' of the companies early background was in film and tv special effects. He has had a lifelong passion for horticulture and began his career in 1998 gaining his RHS and Garden Design qualifications.
The 'Jacque' of the company began when Jacqueline began her career as an actress, before developing her interest in horticulture. She has always had a passion for nature and holistic wellbeing, working closely with Will to incorporate this into their work. She also works in the office with their daughter Sasha.
Sasha began working with her parents in 2020. Growing up she has always loved nature and really enjoys the process of creating uniquely beautiful spaces. 'She is currently our Office Manager and is also studying Garden Design, alongside managing our social media' said father Will'
They are a small, friendly, and hard-working team, but were happy to be interrupted to answer some of our questions.
The Interview
You entered the awards last year and were successful, why did you enter the APL Awards?
We were encouraged by Phil when we first joined the APL to enter the awards. We didn't expect to do so well in our first year. Not only was it a great opportunity to raise our profile but it was also great for team moral. We found that it also created another layer of re-assurance for our customers.
Your employee Louis has qualified for this years WSUK final, how do you feel about this, how does he feel about this and what do you hope he will get from the experience?
Louis was keen to enter the WSUK competition. It is a great opportunity to learn from and work with some of the best crafts people in the trade as well as learn alternative skills and methods from his peers. From our perspective we can't wait for him to teach us some of the new skills he will learn!  We are incredibly proud of Louis and can't wait to see how he gets on in November.
You are a design and build company and a maintenance business. Which do you enjoy the most and which do you think is more profitable?
As a company we design, build and maintain gardens. Design is what we love however we see it very much as a way of winning the build projects, through this process we work really hard to create a good relationship with the client, we try to always design to a budget so that the client doesn't fall in love with a garden that is unattainable for them. The landscaping tends to be the most profitable part of our business, this is where our vision comes to life, we find this incredibly exciting and rewarding especially as we get to the planting stage. For us we see maintenance as a reliable source income it also enables us to carry on relationships with our clients. Through doing this we not only help to maintain but develop the gardens for years to come and from there we then become their go to landscaping and small works company for any extra jobs such as mulching, planting, fencing etc…For us each part is important as it helps build sustainable relationships with our clients.
As a business you are passionate horticulturalists, how do you encourage your clients to invest in planting?
For us planting can make or break a garden. We like to design gardens that make you feel like you are immersed in nature. We talk to our customers about the importance of planting in relation to hard landscaping. It is our view that the planting should harmonise with the hard landscaping softening the overall scheme. It is also beneficial for wildlife, environment and our mental health.
What project or projects are you most pleased with?
Actually, the two gardens we received awards for are the ones I am most proud of. 'The Contemporary Dry Garden' was one of the first gardens built after the first pandemic. The team did a great job and enjoyed the project, the garden looks beautiful in each season and our relationship with the client remains really strong. It was then amazing to receive an award for our maintenance at Caldrees as we have been designing, developing and maintaining that garden for over 20 years having built a Japanese garden, Wild garden and other major work. It is incredibly special to us all.
There we have it, some great insights into the workings and thoughts of a fantastic, established family business. We aim to make this a regular feature. 
If you would like to answer some, not too probing questions posed by Phil, 'APL General Manager' then simply email him at  [email protected] and who knows, you could be next.
Thank you Will, Jacqueline, Sasha and team Jacque and Wills for taking part. Finally, Good luck to louis and good luck to you all in 2024 awards.